Top 7 fun places to go to Pai
(Pai, Mae Hong Son, North of Thailand)

List of fun places to go near Chiangmai and Pai is one of them
The peacenik colony of Pai, considered one of the best places in Northern Thailand, has been attracting backpackers and innovative types for years. Also, the most fun places to go near Chiangmai other than just visiting the temples and the infamous Khaosoi.
This beautiful and quaint little village, located 135 kilometers from Chiang Mai and at the end of a winding road with 762 curves, is the kind of place where you come for a day and stay for, well, ages.
Although it is now ok, truly on the main drag, that doesn't mean you'd miss this amazing place that is known to be like a "Thai Coast in the Canyons." We've been in Pai for more than a few days, spread over a few years. When we first saw it, we ride the Mae Hong Son Loop on one of Southeast Asia's best motorcycle circuits. And as we continued to come back again and again and spent a week in that little gem of a village from Cambodia. There are dozens of unbelievable activities in Pai and as we've mentioned the fun places to go to but these ultimate activities have been limited to us.
There are several ways to get to Pai, and this depends on your budget, style, and location. Many people from Chiang Mai travel to Pai and often come back the same way. From the town of Chiang Mai, there are three options of taking these fun places to go to.
You can get a flight from Chiang Mai into Pai if money is not a problem but the time is. It certainly is not the cheapest choice, but in no time the plane will take you to be there. Usually, the airline companies are Air Asia and Nok Air, you can check their online website for better inquiries.
If you can tolerate the wait and the inconvenience being with other passengers (not to mention, too close for comfort sitting and less legroom) then, by all means, take the mini-van. There are plenty of mini-van operators or shuttle buses that cater to your transport needs. 
However, due to the current pandemic conditions, most of the transport companies are out of business. So, you may have to double-check and do your research on whether these companies are still running or not.
There are 762 curves on the road from Chiang Mai to Pai and the shuttle bus can make everybody queasy onboard. Make sure that you first gather some motion sickness tablets from the Chiang Mai drugstore.
From any hostel or agency in Chiang Mai, you can book your transport to Pai.  Definitely a good way to check out the fun places to go to. However, if you'd like to book this before time, to make sure you're not missing a seat, 12go.asia is the best place.
3. The last option would be, rent a very good, working, secured motorbike
First things first and definitely a must to do is to learn scooter riding.
Nothing denies the fact that Pai is one of the best places to ride a scooter and fun places to go to in Thailand. Some foreigners do tend to think that it is easy to ride around a scooter but it is relatively dangerous for those who can't. One fact is that as soon as they get off the motorbike/scooter rental place they find themselves in an accident. So, please don't be one of those stupid, annoying tourists who are careless about traveling (our apologies for being so blunt!).
Make sure that you have proper identification such as a driver's license and at least have travel insurance. And also wear your helmet at all times! The one beautiful thing when renting out a motorbike is that you have your own sweet time, you can check out other fun places to go to  along the way without the hassle of waiting and spending some time with strangers (no pun intended).
It is ideal for transport thanks to the rural roads, the great landscapes and the lack of adequate transport. There is a lot to see in Pai and going on a scooter is an efficient and fun way of doing that! That is the perfect and most pleasant way to Pai, as you have the opportunity to take in the enthralling landscape along the way.
The fresh air in your face is marvelous and the road has recently been paved so that the whole way is almost flawless. The way from Chiang Mai is a bit of a frenetic effort, but it will all be fun and fast to Pai once you get into the mountains!
But please be very careful on this journey, as we have met dozens of backpackers that crashed on this road and it was because either they were too cocky or inexperienced and didn't know how to ride.
If you never had ridden a scooter before, Pai is a perfect place to learn because of the lack of traffic. Several shops in the city rent out scooters at reasonable rates (generally around $5 per day).
At the gas station in town at the best prices, we recommend that you fill. After you have a bike and a full tank, all that is left is to ride in your face to dusk with the breeze!
Don't forget to check out the recommended accommodations
Prepared and ready to book? And here are the top three places in Pai to stay. That's right, these are three of Pai's highest recommendations.
Pai's Best Airbnb: Cottage river
Located in the Northern part of Pai, this charming cottage is near the river. You're going to have the entire cottage. You can enjoy the unbelievable view and sunrise every day by step out of your front doors. There is a nice common area and also a swimming pool (called the clubhouse). As Airbnb is a little further off from the main town, we would advise renting a scooter quickly and easily from point A to point B.
The Jazz House is one of the nicest Hostels in Pai
Initially, this is one of the best backpacker hostels in Pai. We're in love with the Jazz House Hostel in central Pai. It's a social hostel's heck! It's a lively place, not just another hostel for young people's parties.
In other party hostels, there is a more collective and chill atmosphere than you might expect. Moreover, a free hot breakfast is also served every morning, which is awesome!
Pai's Best Hotel: Prilpai Guesthouse
A few minutes' drives from Pai city center, the Prilpai Guesthouse is located in south Pais. This is one of the best places to stay in Pai because it's engrossed in trees and bushes but not too far from home!
On your way into the city, you will go through Earth Tone, our favorite restaurant in Pai. You're going to also go through a 7-11 to find out everything from a busy day on the drive back home. A hearty breakfast and Wi-Fi are also included! This is a true place to relax without splurging unnecessarily in Pai.
FYIs: if you are on a time constraint and had no chance of looking for accommodation due to a lack of connectivity, here are a few tips to get on board while in Pai. 
There are plenty of hostels and hotels in Pai that you can look into whilst renting a motorbike/scooter. Or if you rode to Pai yourself that is also a better chance of finding a good accommodation that is to your preference. For us, we mostly favor finding ourselves while on location. It can give us a better option to look at what we want.
And here is a list of the fun places to go to absolute best things to do in Pai, Thailand, from what to do, where to go, and how to stay (if you wish to stay longer!)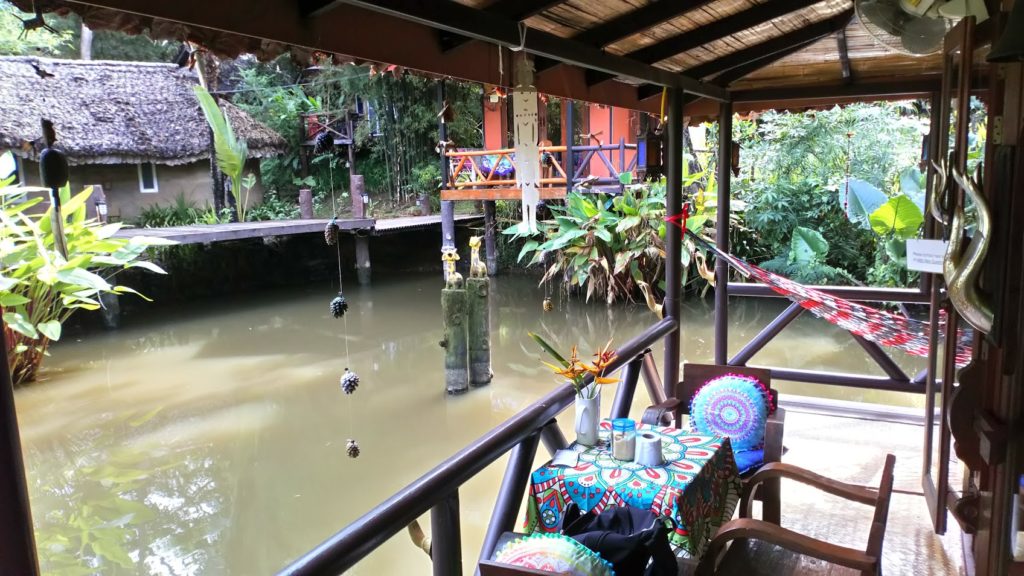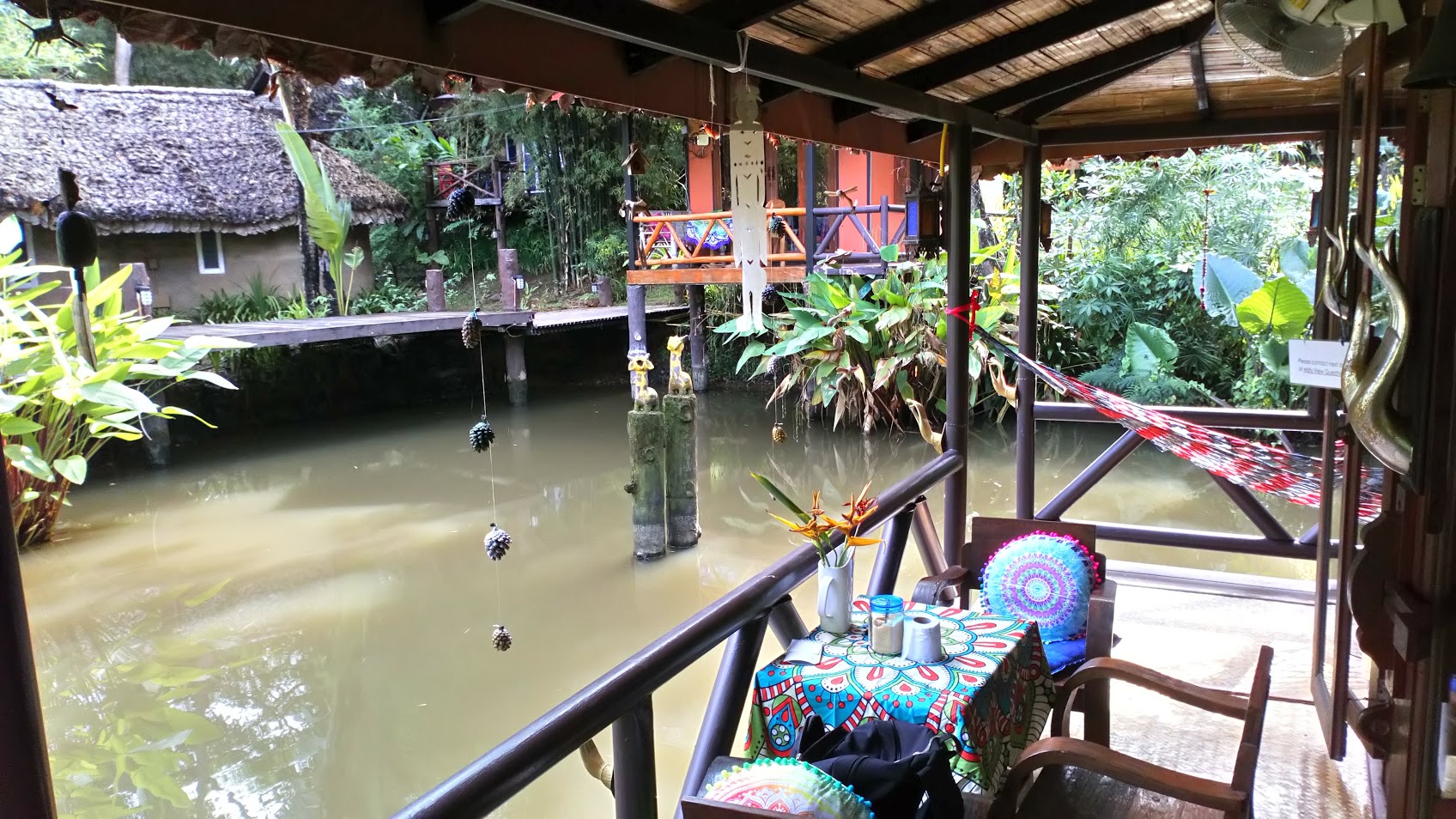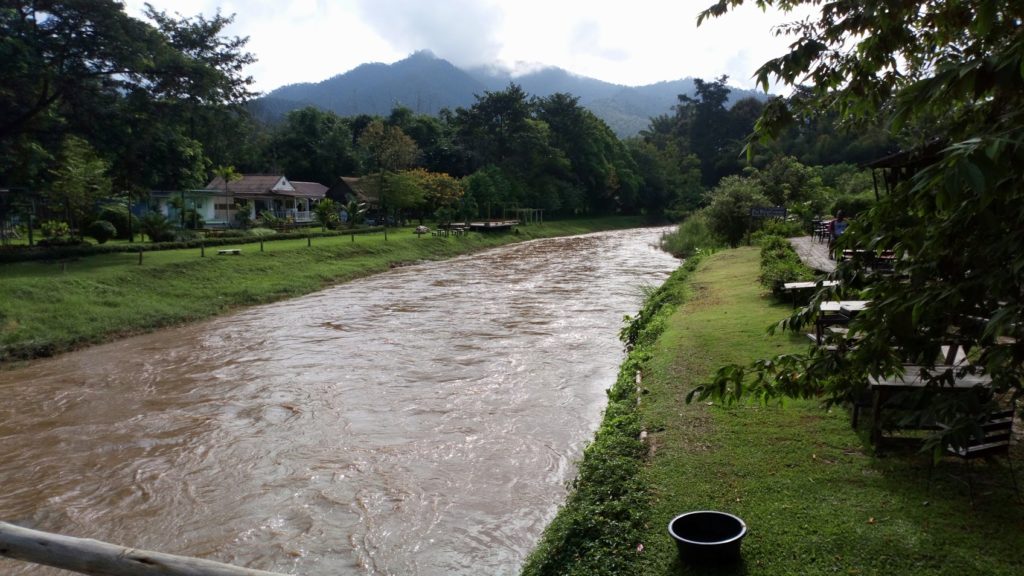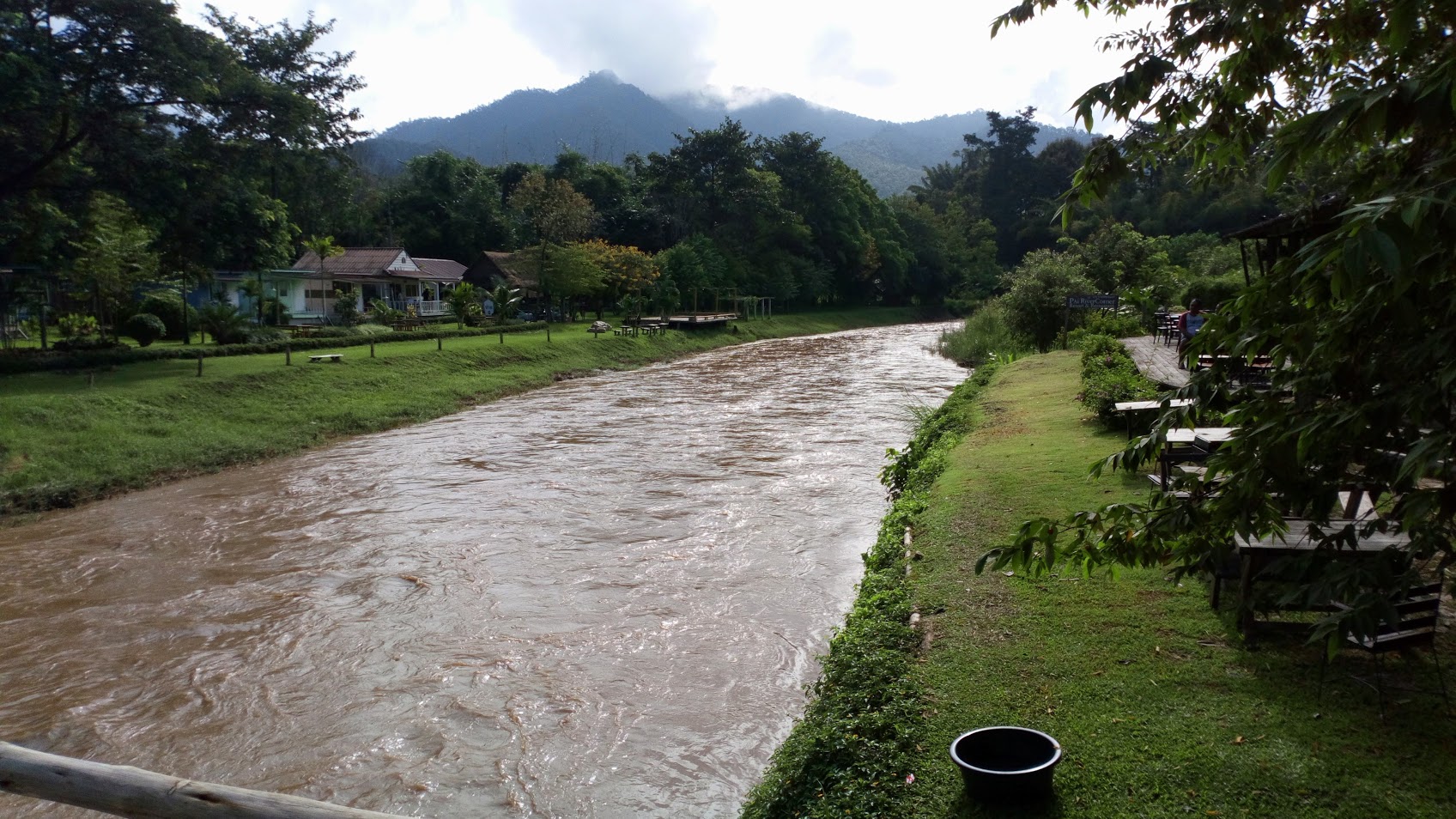 TOP fun places to go to do in Pai
1. The Pai Walking Street
Your best bet to having a good meal in Pai is to go roaming around the Pai walking street that starts around 5 pm till 10ish. You can get a wide variety of dishes to fill up your tastebuds. Ranging from Thai food to Japanese, Italian, etc. even surprisingly, Turkish kebabs! So, no worries, you will have your fill when you get there!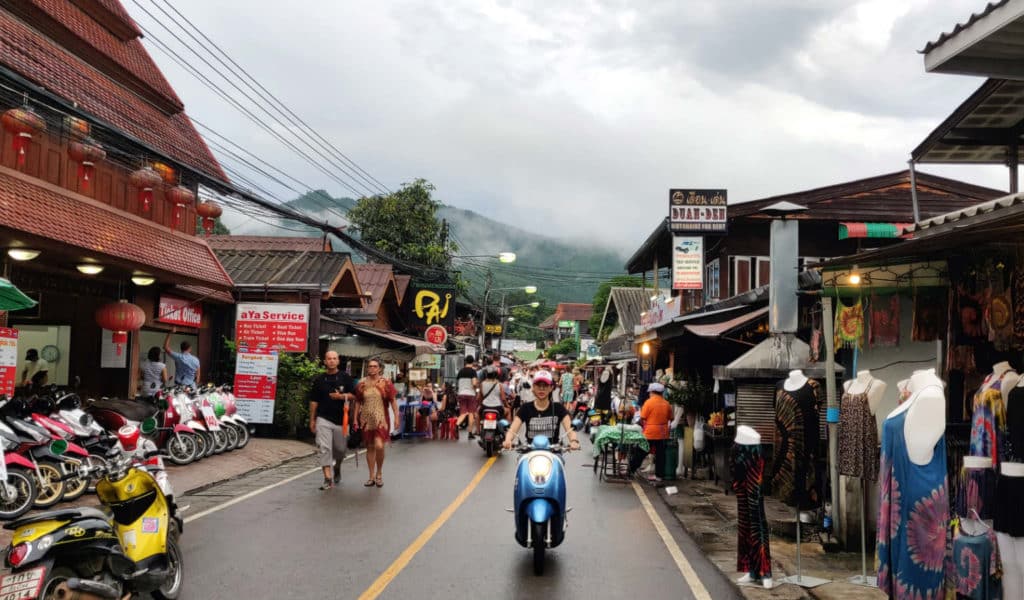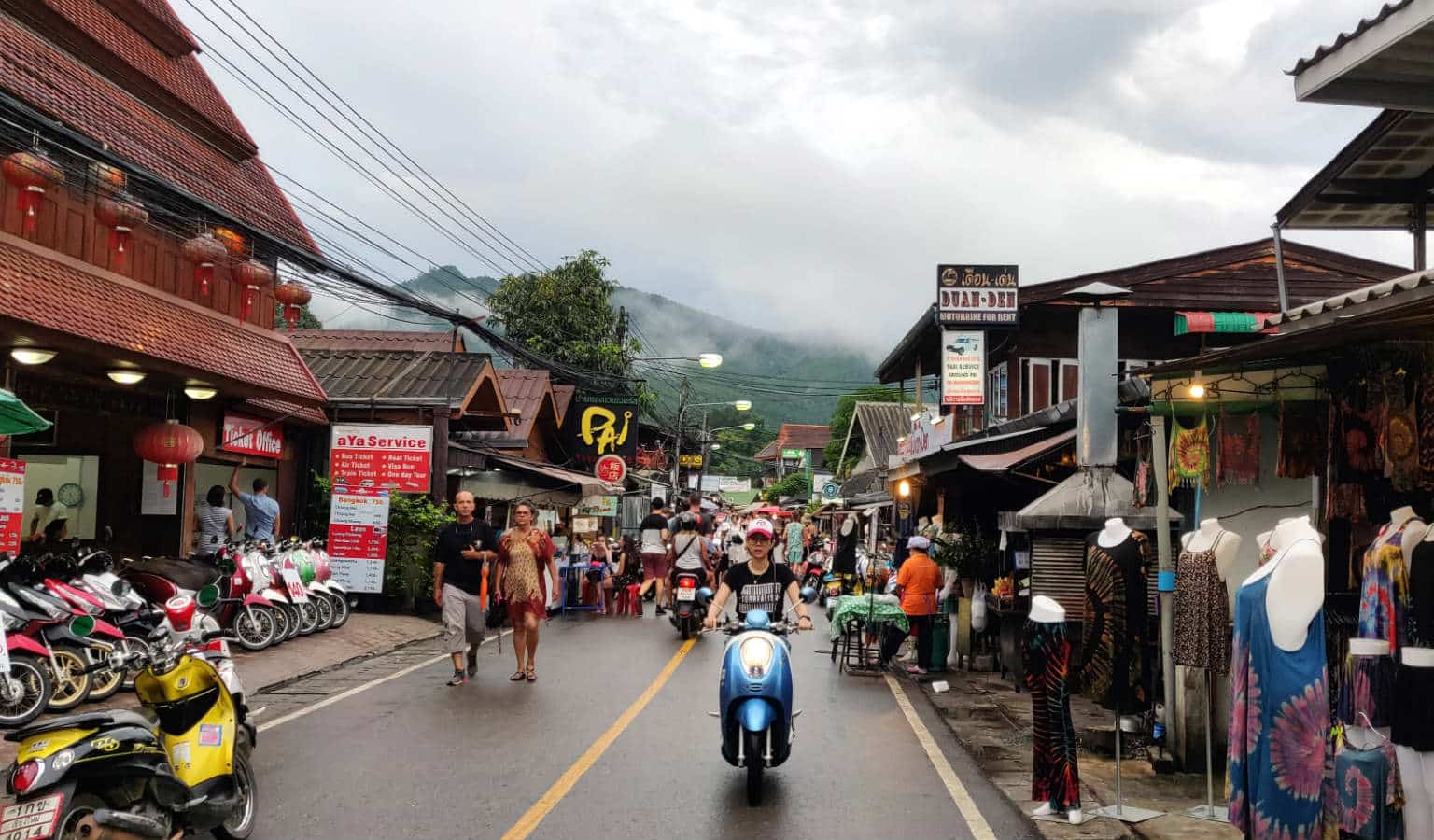 2.  The Pambok Waterfall
Pai has many fantastic waterfalls to visit, ideal as the area can get very warm during the day! How to cool better than to visit the best two!
The Pambok Waterfall, located a short scooter tour of Pai, is our personal favorite. It is a little more isolated than its most popular choice (more below), so don't miss it.
It is tucked under high cliffs, so it is often shaded most of the day. The water is thus quite cool, but that means that you can have the piscine for yourself. You can also climb a few ledges to jump off. Before leaping, make sure to check the water depth. Safety first!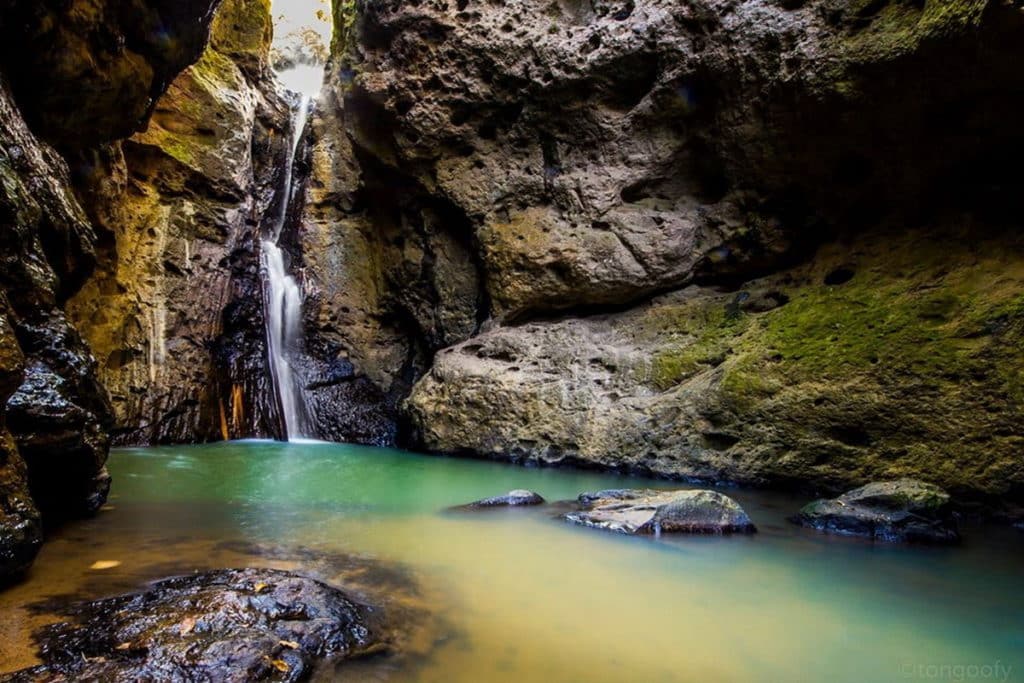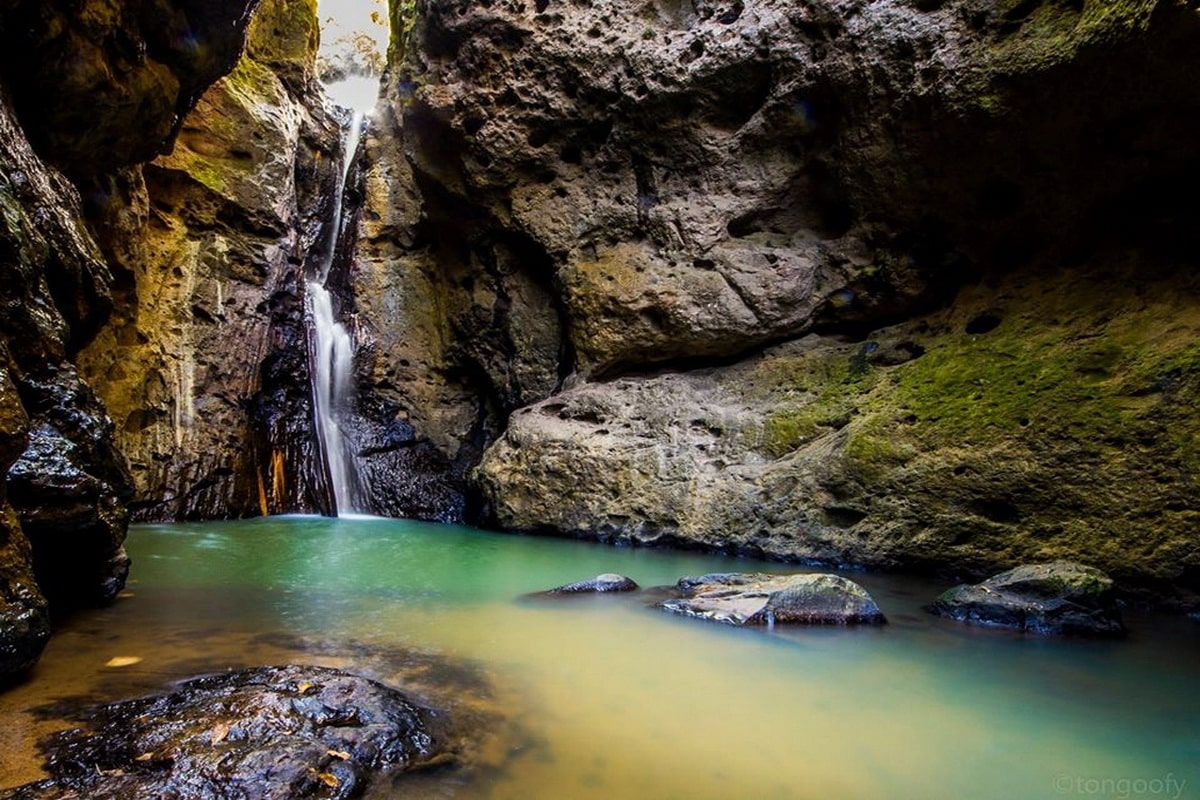 3. The Pai Canyon 
 8km south of Pai is in the Pai Canyon area. Just 8km south of Highway 1095 to get there. To get to the Pai Canyon yourself, stay in search of a parking lot, which is right after the attraction of the "Love Strawberry Pai."
The Pai Canyon itself is free to visit and a few drinks and snacks are available from small stalls and suppliers to buy. It's great that there's just one trail around Pai Canyon, so you can't get lost. The views tend to stick a bit out of the way, so keep alert and you're not going to miss something.
4. The Great White Buddha
Maybe you imagined that, but the coolest place for staying in Pai is in South Pai. South Pai is the best neighborhood to stay in Pai in the cool atmosphere from the numerous chill resorts to the free-spirited vibes.
The giant white Buddha is located on the hill, Chedi Phra That Mae Yen, also in South Pai. If you follow a scooter part way, it's not too high for a walk up there.
Make sure that you bring suitable clothes, as staff expects you to cover your knees and shoulders. You will do a scarf wrapping around your tail. They'll "rent" you a sarong for an additional cost if you forget any.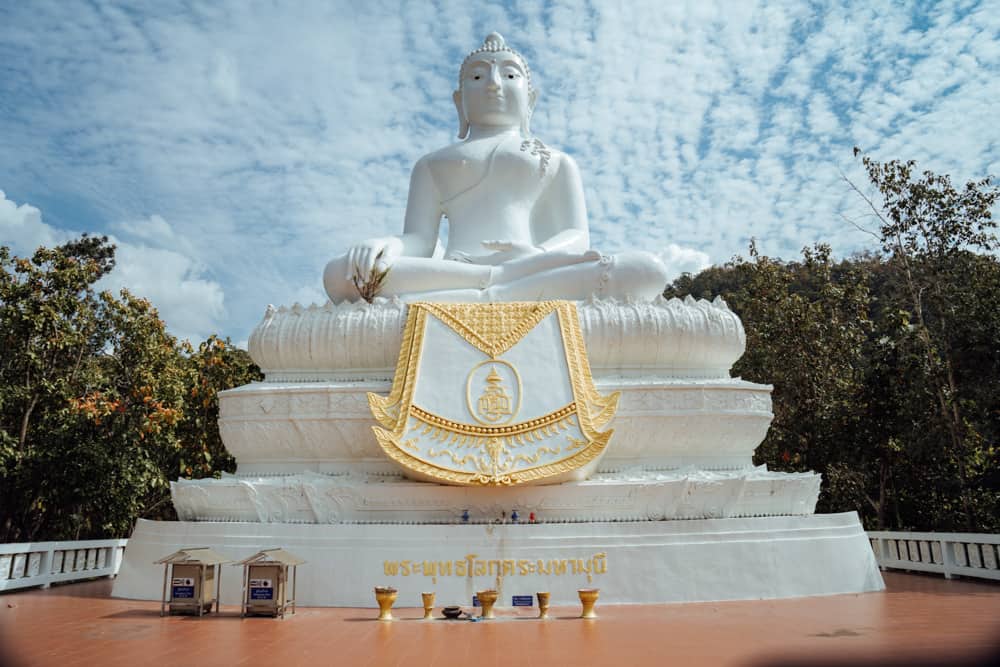 5. The Thamlod Caves
 Have a little bit of energy going out to the caves? If you do, you can check out the Thamlod Caves. It is not exactly in Pai, but it is still doable to go to. It is roughly about 35 km heading towards Mae Hong Son, (if you are a little bit unsure, please do have a GPS or google maps on your phone to avoid confusion and being lost on the road).
According to Wikipedia, Tham Lod (Spirit) cave is a cave system with a length of 1,666 meters near Sop Pong in Pang Mapha District, Mae Hong Son Province, northern Thailand. The Nam Lang River flows through the cave which is filled with stalactites and stalagmites. The cave is home to large numbers of bats and swifts.
Opening hours: 09:00 – 18:00
How to get there: The Lod Cave is situated about 8km north of the small town of Sop Pong which is about halfway between Mae Hong Song and Pai.
Address:  Tham Lod, Pang Mapha District, Mae Hong Son, Thailand, 58150
GPS Coordinates Map : 19.5682626, 98.2775205
Entrance :
Guides (with lanterns) for Tham Lod Cave are only 150 Baht per group (1-3 people), and the bamboo rafts inside the cave are 300 to 400 Baht for 3 people (one way or return trip through the cave).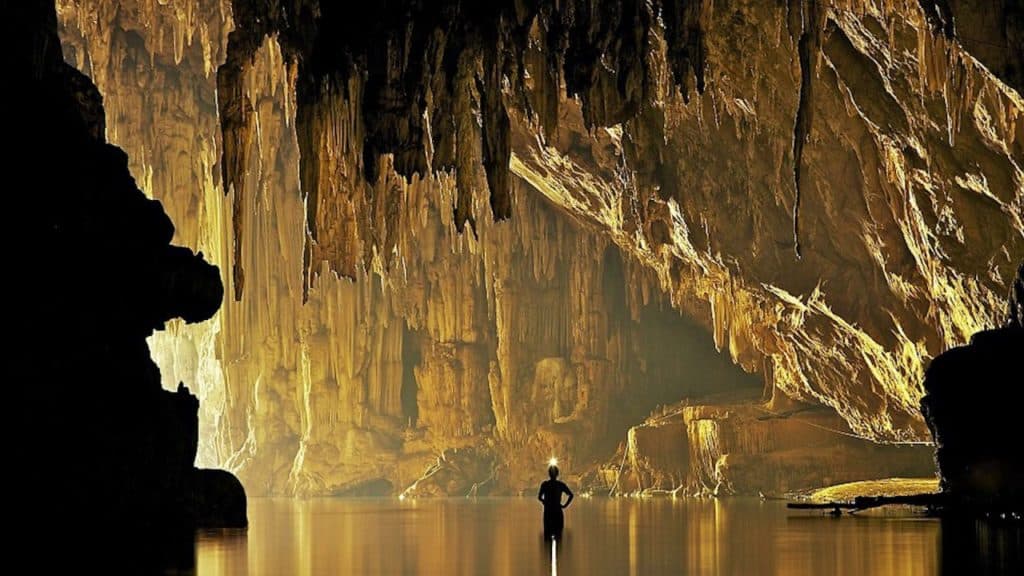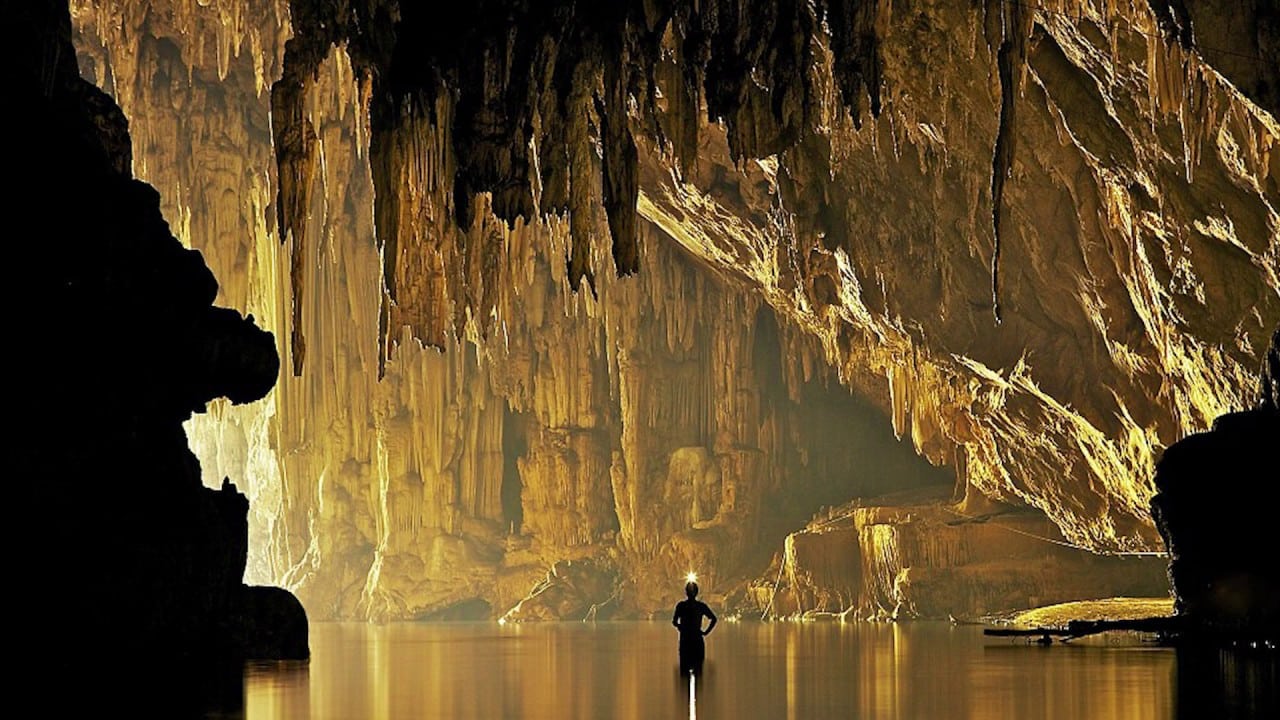 6. Pai Memorial Bridge
Get in touch with the old past by visiting the Pai Memorial Bridge. The Memorial Bridge in Pai (Saphan Prawatsart Pai) appears to be a mandatory selfie stop for visitors these days, but the steel bridge and the original wooden structures that preceded it have a fascinating history. 
In World War II, many transport routes between Thailand and Burma were built using the army of JPW and forced labor. The Death Railway was the most infamous, but also strategically important was the route from Chiang Mai to Mae Hong Son. At that time, the Japanese wanted the roads to be improved to fit the forces of war and heavy vehicles required to conduct the attacks planned against Burma, then a British colony, along the rudimentary road linking Chiang Mai and Pai. A wooden bridge across the River Pai was built in the village of Ta-Pai with elephants used to bring the jungle trees.
Through 1944, when the Allies retreated, the Japanese army had bruised Ta-Pai Bridge. After the end of the war, the local people reconstructed the bridge and in the following decades, it was strengthened and improved. Severe floods struck the Pai area in 1973 and destroyed the bridge. Local authorities of Pai asked their Chiang Mai counterparts for permission for the use in 1975 of the decommissioned Chiang Mai Nawarat Bridge, which was erected a year after the construction was completed.
It is now only pedestrian-friendly and is usually called the Memorial Bridge on Highway 1095, which vehicles used for crossing the Pai River, with the adjacent concrete road bridge. The steel frame at the Memorial Bridge is perhaps strong, but the rickety wood floorboards have seen better days and you have to make sure that you do not catch your foot.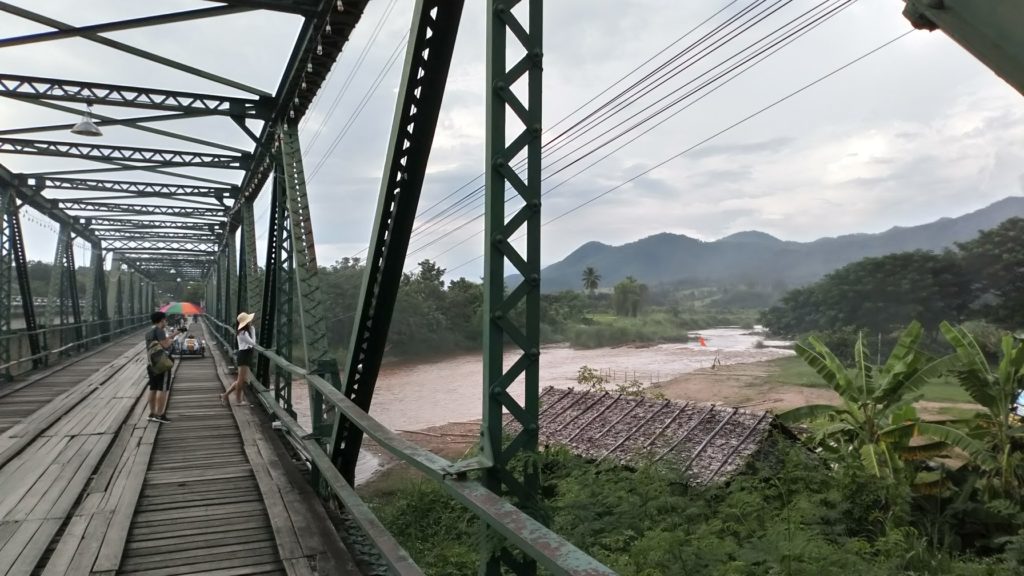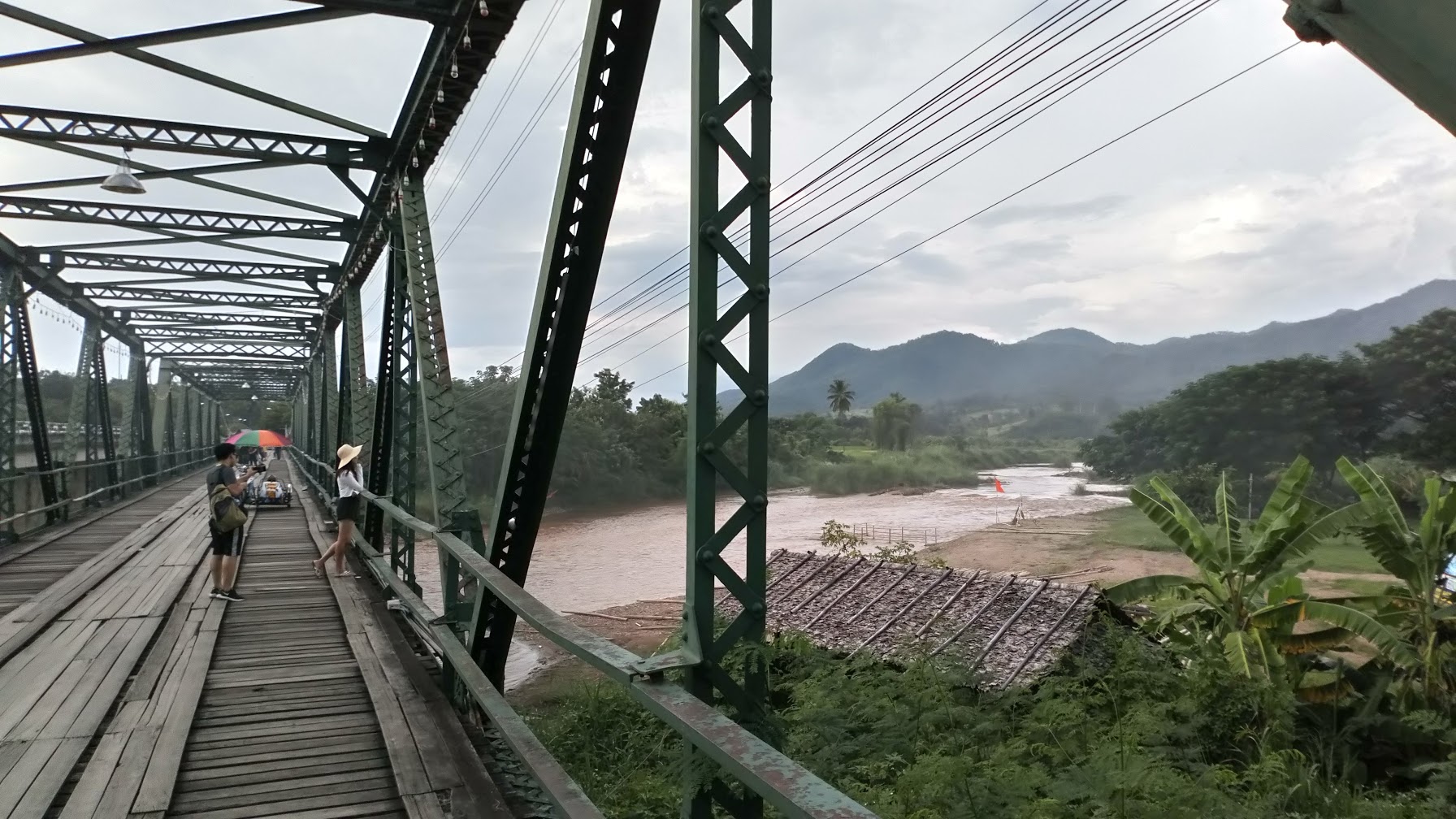 7. Sai Ngam Hot Springs
The Hot Spring Sai Ngam. Clearwater, pleasant temperatures, and incredible natural environment that a jungle-jacuzzi would expect. Sai Ngam's got everything!
These hot bathing areas are most popular among locals – who love to immerse themselves in a dressed environment – and are right on a quiet street. You can enjoy your private bath if you first go in the morning (before 9 am). You will come across a lovely authentic Thai village if you continue uphill. We advise you to drive through the streets to see the Thai living in their traditional wooden stylish houses.
How to get there:
Around 20 kilometers away from Pai is Sai Ngam Hot Spring. Continue to Mae Hong Son on road 1095. You will see a clear sign 20 minutes after driving to the right. Pay the entrance fee and drive on a winding, steep road with many steep hills for nearly 5 kilometers. Not for the heartless!
Entry fees: 200 adult baht, 100 children baht, and 20 motorcycle baht.
Operating times: 7 a.m. to 8 p.m.
FYI, The Tham Lod Cave is now being reached at the Sai Ngam Hot Spring, which means both trips can easily be combined.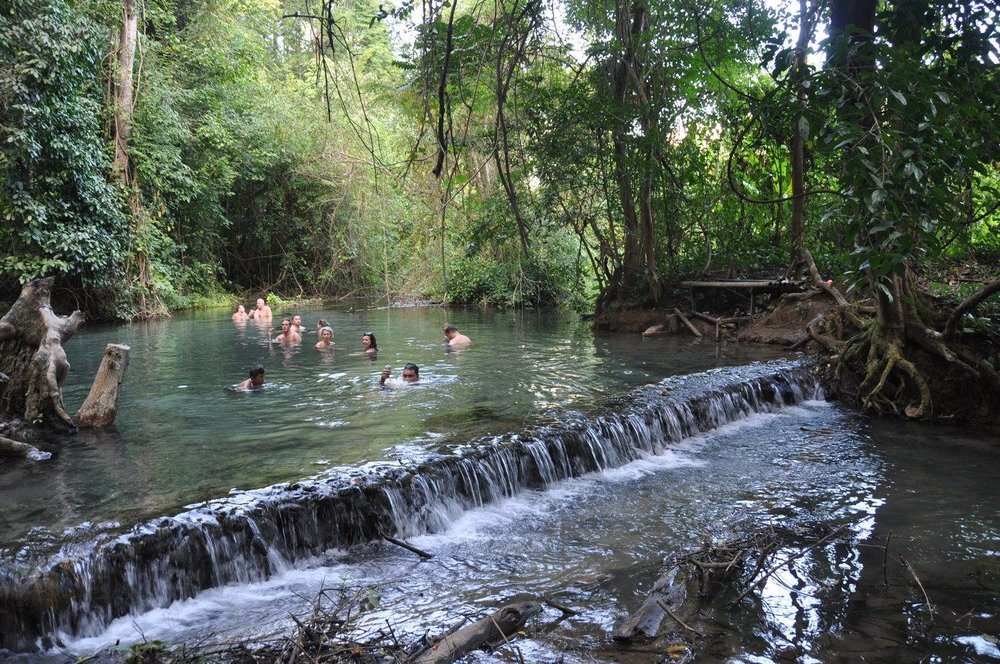 Here are some interesting tips on enjoying more of your time in Pai
Top fun places to go to and Things to See and Do in North Pai
Feel like Shaolin and sign up for a Nam Yang Kung Fu Retreat
Visit the Art Farm Studio and look for delicately handmade treasures
Get your boxing on and get trained at Sitjemam Muay Thai
See the beautiful sunset at Wat Mae Na Toeng Nai
Take a Thai cooking class at Isara Garden and learn how to whip up truly beautiful and delicious Thai dishes
Go further up North and take a dip in the Sai Noam Hot Springs, just be mindful that the foreigner fees are higher than the locals.
Don't mind petting the sheep and bunnies at the Village Farm you can even enjoy an afternoon tea or coffee there too
Give MuayThai boxing a try if you haven't or it just fancies you at Wisarut MuayThai Gym
Read a book in a hammock and chill at Thai-Zen Organic Farm and Cafe
Crack open a beer and sayไชโย (Chayo) at this funky and teeny tiny bamboo bar— Pai Zion Zone
Try the incredible and tasty vegan food at Bom Bowls, where the food looks like art and tastes beyond delicious
Go for a dip at the public pool—Fluid Swimming Pool, note that the entrance fee is between 60-80baht (season dependent) make sure to get some sunscreen on!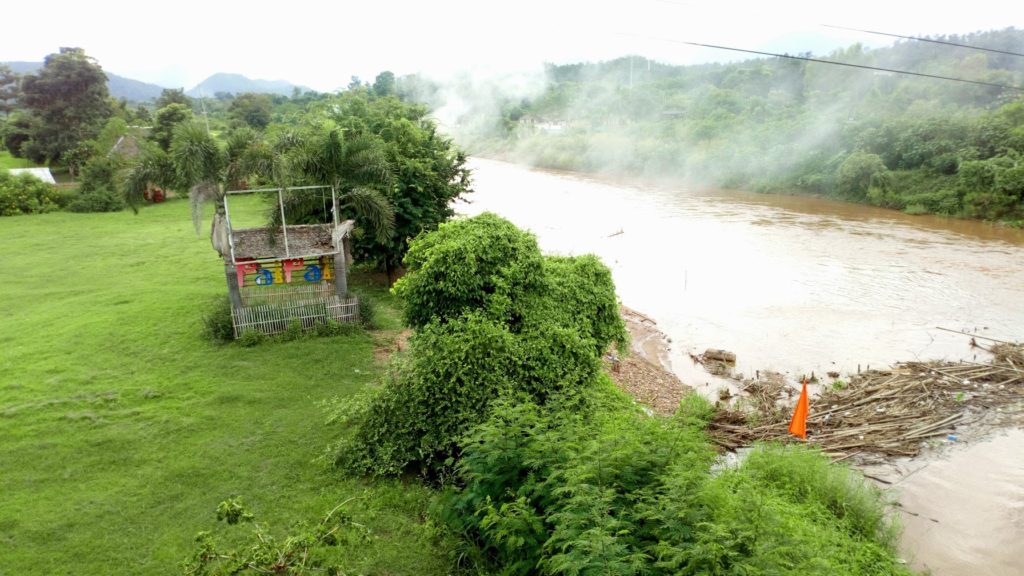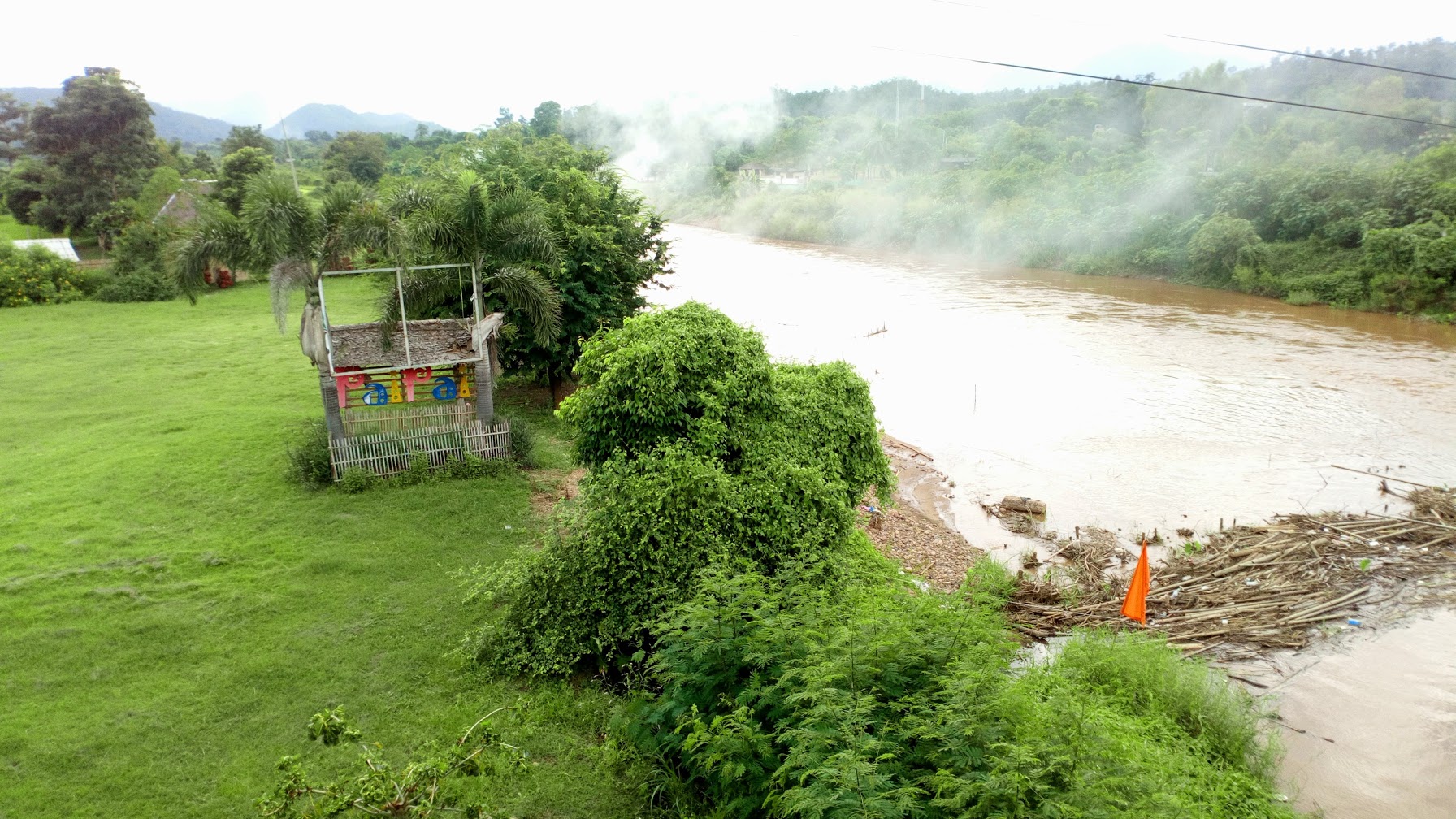 What's in store for the rest of the trip?
It is more likely that you will be extending your stay or probably thinking of becoming a digital nomad just to hang around a little bit more in this lovely, hippy village in the mountains.
Well, why not? You will never know what will come next and enjoy it while you can. We hope that this rundown of the list of fun places to go to is amongst the few that we know that give you clarity of what you can expect of your travels.
As always, stay safe. Buy the ticket and take a ride!