Koh Phayam is an island in the Andaman Sea that is very rarely visited. While Koh Phayam attracts more and more visitors, it is still rarely crowded in the high season. Either as a couple or a single traveler, you will appreciate the oneness with the sea and nature. We have spent 2 weeks on the islands and we could not get over it. Let's take a look further on Koh Phayam with some travel tips to help you out.
Koh Phayam is the largest island on the Andaman Sea off the coast of the Province of Ranong (the closest is Ko Chang, about 4 km away). Koh Phayam does not have car-friendly roads, so motorbikes are the main means. At the pier, visitors rent bicycles or commuter taxis, then take the route to the resorts. Two major beaches, i.e. Ao Yai and Ao Kao Kwai (Buffalo Bay), are situated here. Ko Phayam is reminiscent of what Ko Samui was 30 years ago, before the development of the airport and hotel.
Ao Yai is the west coast 's largest bay, about 3 km long and 300 meters high, with a white sand beach and the Andaman Sea swell. Fantastic sunsets, too.
Koh Phayam is commonly considered to be one of Thailand's most stunning and undiscovered islands. This island is rapidly developing and is no longer deserted. The location is found by travelers seeking serenity and the beaches are bordered by key resorts and prices rise. It's nice that the beaches are small and yet not crowded in contrast with Thailand's most popular tourist islands.
FYI, there are no banks or currency exchanges on the island except one ATM located near the pier that was put lately in March 2019. 
Koh Phayam is situated at the southern tip of Myanmar in the province of Ranong. There is also a small airport in the capital of the province of Ranong, where you must travel to Koh Phayam. You can only fly from Bangkok to Ranong with NokAir right now.
Meanwhile, 12go.asia is an outstanding website for booking tickets for buses and trains in Thailand. You can check it out from our website links or the ads you see on the pages of this site.
The bus terminal is situated some 20 km outside the city and the airport. From the bus terminal Ranong to the Ranong jetty it takes about 15 minutes. A Songthaew regularly drives to the pier from the bus terminal and charges 50 baht per person. Of course, you can even take a motorcycle taxi if you fly alone and do not have a ton of luggage with you.
You will eventually enter Koh Phayam by ferry and speedboat from the boat jetty. It takes around 2 1⁄2 hours for the slower ferry to be the cheapest alternative. Twice daily at 9.30 am it goes to Koh Phayam. Then 14.00. then 14.00.
Fast boats go many times a day from 8.00 a.m to Koh Phayam for 350 baht. It takes just 40 minutes to get there. However, please remember that the speed boats only run from November to around May during the main season.
We preferred the speedboat because it was rather long and boring sailing from Koh Phangan via Surat Thani to Ranong. By the beginning of May, the high season was as strong and therefore the boat was clean.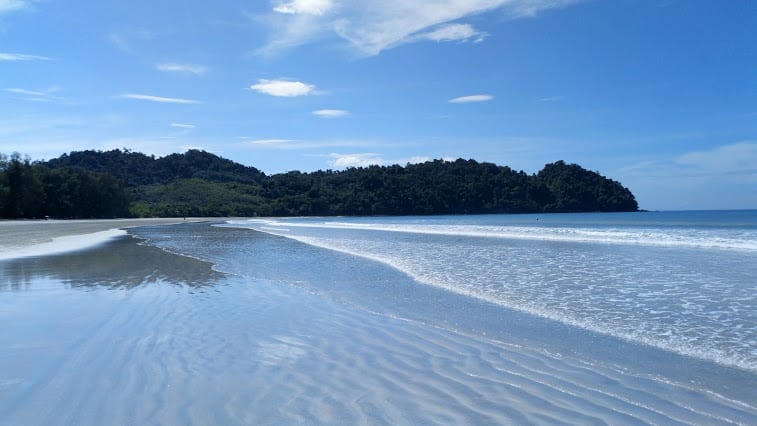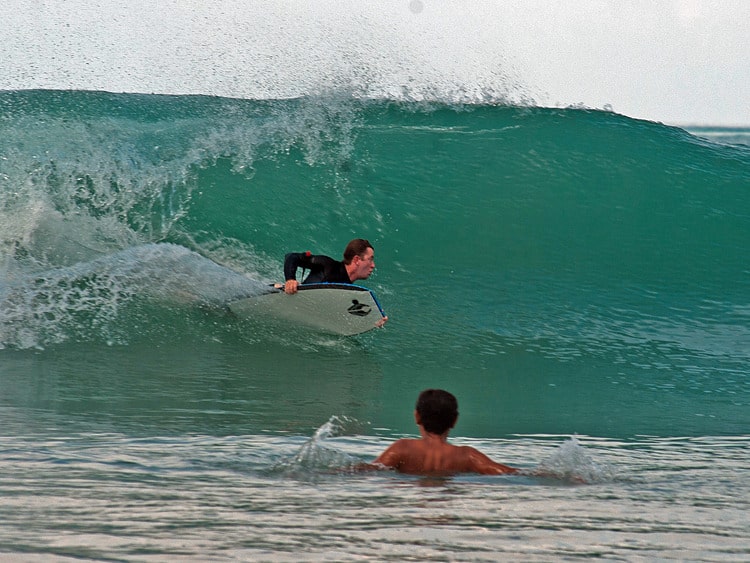 Getting around Koh Phayam
On this island, there are no buses or cars or any kind of big and heavy transportation. At the Phayam Cottage Internet Sheet close to the main ferry arrival pier as well as many other places can be rented motorcycles and scooters. The price per day is approximately 150-200 baht if not heavily reserved. The cost of fuel per liter is from 40 to 50 baht. Don't push it on the beach if you borrow a motorcycle. There have been rumors of a fine print of the lease that you can get a fine of 5,000 baht.
Taxi drivers on a motorcycle can wait for you as you step off the dock, separated in blue or red west, across the island.
We arrived at the Koh Phayam jetty around 9 in the morning and it was a very rainy day. After a speedboat run, which had been very short. In the beginning, the little main town on the jetty seemed a little hectic where most of the travelers are mostly caught in the rain like us. The first objective was to find a rental scooter, which was found easily after a few steps. A passport was not needed and we went to Ao Yai (Long Beach) on the southwest of the island a few minutes later.
After just about half an hour of wait, it ended a less relaxed first ride with our heavy backpacks. Our lodging, the Starlight Beach Bungalows, has been quickly reached by our motorcycle drivers who pretty much know the area, and the island is also considered not that big to navigate.
There are so many lovely bungalows, hotels, and hostels for accommodation but we have a few to mention.  In the first week, we stayed at Starlight Beach Resort. The owners are very accomodating to our needs and are very helpful. Also, this resort has a beautiful, beachfront and the bungalows are pretty clean and cozy beds. Not to mention, it is located near the famous rasta house. The iconic Hippie Bar is situated on the north end of Buffalo Bay. This is a bar built as a large ship by two Thai Rastas.  Indeed, this is such a memorable treat to see!  We asked them for how long they have the bar and they told us that they've been building it for over 10 years! 
Next is Sabai Sabai Beach Bungalows, which we stayed for the last remaining week that we had on the island.  The owners are quite lovely and they took care of us and the whole place. A wonderful location with a warm, casual atmosphere. It has eight easy, but trendy, beach bungalows prices from 200-500 Baht per night (e.g. India, Africa, Cuba). 
The restaurant also serves sociable family food, a cool lounge area with films and sports, plenty of hammocks to relax in, and a small sailing boat and a kayak. Also on site are the Coconut Bar and the cozy Shisha Lounge, which features a hammock, and two beach parties take place every two weeks  You can find yourself being immersed with dogs nearby as they love to play and stay with you (only if you allow them to!). 
Many Koh Phayam apartments and bungalows are built quite easily. Many rooms are just fans, and in the lower season, the island often has water blackouts and shortages. You will easily become acquainted with it.
We wanted to head straight to Long Beach, as sea-lovers, of course, but frankly, we were hoping for something more. It was perhaps just the tide, but we wouldn't call it a paradise beach, necessarily. Yet the beach has become eternally long and almost abandoned. Something nice is certainly low season!
So, for more ideas or whatever preferences for your kind of accommodation, please feel free to look for your place of haven in one of our booking sites here on our website.
Several great restaurants with local seafood and new catches and other restaurants serving local foreigners on the island are open.
The entire island provides several inexpensive food choices for vegetarians/vegans.
Here are the following suggestions:
"Sabaidee" is close to the pier. Best meal or drink before going or only entering. Great Thai cuisine, homemade baguette, and homemade yogurt.
"Snack bar Italiano"'),' "Paceluce", Ao Kao Kwai North +66 860 294 106 (next to "'Chomjam Resor"t). Closes at 5 p.m. A tiny family restaurant in Italy offering noodles, sandwiches, bruschetta, coffee, and crepes with new ingredients. 
'Fan's Spot' has some wonderful cakes and home bread created by the owners-Pi Family, who have over 20 years of baking experience in the village on the path leading up from the pier to the hospital. The menu has Thai and Western dishes and is a beautiful light.
'Cha-Chai House' has a large selection of custom-made hot and cold beverages, including a wide range of teas, fresh coffee, vegetable and fruit juice, grasses, shakes and fantastic shakes, only a little way along the main road leading to Ao Yai (Long Playa), on the path to Buffalo Bay (Payam Cabana / June Horizon Lane. Cha Chai Home offers a variety of fresh, homemade food, including gluten-free, superfood, and vegan foods. Though the no-meat region is available, 'false' meat is accessible for vegans, vegetarians, and non-vegetarians, including burgers, spicy pizza sausage, five spicy lambs, or Tamarind fish.
Flower power restaurant and hostel serve meat, vegan options available. Little Italian restaurant with a labeled vegan section on the menu. Serves Thai and Burmese food, pizza, pasta, and burgers. Open year-round. Note that the map marker is a rough estimate – They are open from Mon-Sun 8:00 am-9:30 pm.
Their main focus on the island is on healthy lifestyle choices, with wholegrain rice and home-made bread; homemade milky yogurt and non-dairy kinds of vinegar, probiotics; fruit and vegetables in activated charcoal water to remove chemicals, bacteria, and other toxins; and a wide range of herbs, spices, and superfoods are used in the dishes.
They often seek to add to the wellbeing of the planet, eliminating the usage of plastic as much as practicable, selling water replenishes or jugs (no bottles), cups and paper bags, and bamboo straws (for a slight extra cost) to be taken away and reused by consumers.
Is there a nightlife on the island?
Many bars and restaurants with a good number of German-speaking guests are on the island. Now the Scandinavians are beginning to find Ko Phayam. Thai Sang Som rum with cocoon milk Ko Phayam is the island 's official beverage.
There are places where water bottles are re-filled (around 5 Baht a liter, always a clever idea rather than new glass bottles. The local village is generally a quiet area but has a couple of late-night bars.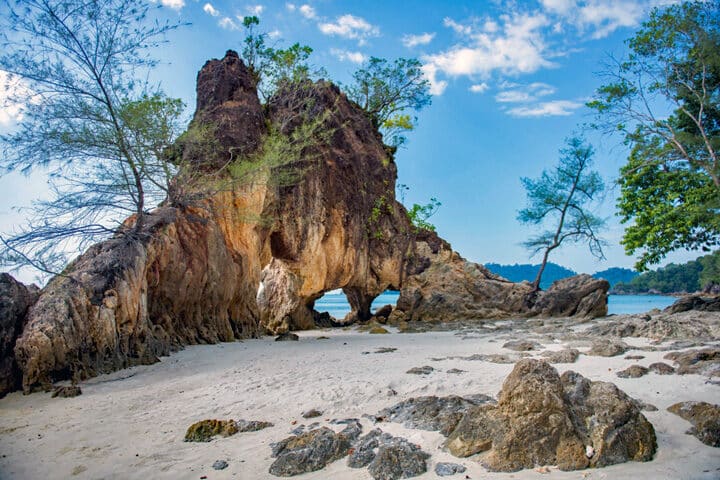 Other areas on the island worth visiting:
The journey to Ao Khao Kwai (Buffalo Bay) and then Ao Kwang Peeb (Monkey Bay) we crossed the peninsula. The Ao Khao Kwai is the second biggest beach on the island and a little higher than Long Beach in our opinion. Although only partially suitable for low tide swimming.
Then we found Monkey Bay's first highlight at the beach. This tiny bay is situated in the north end of Koh Phayam, and it was abandoned – as it would be otherwise. We almost could call it a fool's paradise where you are in a state of happiness based on a person's not knowing about or denying the existence of potential trouble. 
This tiny bay is situated in the north end of Koh Phayam, and it was abandoned – as it would be otherwise. We may nearly term it as an insider tip.
The lane is not lined and just a dirt path leads up. Either you control your scooter well or park it and walk on the rest of the way. The beach is named for the monkeys you meet right before the beach in the short section of the jungle.
You easily know Koh Phayam is a tiny hippie and Rasta Island as you travel around this serene oasis. Small wooden bars with bamboo colors and Bob Marleys are everywhere, you'll find them. The entire lot is done through tiny vegan restaurants and yoga.  Having to write about this magnificent little island makes us wanting more to go back.  Unfortunately with the COVID19 situation, the entire Thailand Tourism industry has fallen back and we will have to play it by ear.
However, not only is the island filled with hippies, stoners, and backpackers. You will see – particularly in the best resorts – even couples or elderly people who want to spend a few days enjoying Koh Phayam 's peace and atmosphere.
All things considered,  if we have to find a quiet spot, Koh Phayam has the spirit that we love. In the off-season, it is super laid-back, as well as tranquility on long weekends and holidays. There are at most times a few Thai locals and you will be surprised why. Only the main beaches, though mostly very lonely and natural, we expected much more than a little paradise.