Chiangmai best restaurants

Chiangmai best restaurants:
         Let me tell you about Chiangmai restaurants, in the light of those who have not heard or not been into this amazingly enchanted part of Thailand.  When I say enchanted, it is because as the word itself would define Chiangmai, 'completely fascinated or absorbed by what one is seeing or hearing'.  And that is how I've personally felt even until now after living in Thailand for 8 years and hopefully counting.  I have lived in Chiangmai for 3 and half years before I left for different provinces for work and study, then had a short decision to leave Thailand for 8 months for Phnom Penh for a much needed 7-year itch break.
  Here I am back in this magnificent city, currently with my new and adorable little family. Thus, it is also one fo the main reasons why we are here. My apologies for not putting my bio, but I will sometime in the future. For now,  those who are wondering if there are any vegans and/or vegetarian restaurants in Chiangmai, the answer is a definite YES. Please allow me to share the top 5 that I picked and also crowd-pleasers to some.
FYI:  I consider myself an honest person, due to some unseen circumstances (gave birth a few months ago, postpartum, new home to settle, etc.) the photos are not mine, some are taken from the restaurant's site and other customers.
However, I have been into these restaurants and I can definitely give more than of my just 2 cents for the review. Not everything is in order by numbers but just my main top five Chiangmai restaurants. Please, enjoy it!
1. Anchan Vegetarian Restaurant
(Price Range/person: 95-160baht)
Address: 28 Nimmanahaeminda Road, Tambon Su Thep, Mueang Chiang Mai District, Chiang Mai 50200 Open: 11:30 Close: 9:00 (Kitchen closes at 8:15 pm)

As it was already mentioned at one of the sites, I'll save you some time for that, unfortunately, Google Maps is useless here, as the Google maps truck never drove into the side street where they are. Best way to find it is to go to the corner of Nimmanhaemin Road and Soi 13 off Nimmanhaeminda Road. Then walk across the road, into the little side street opposite soi 13 and you'll see it about 50 meters down on the lefthand side, 2nd floor.
They have a fixed menu, and I am attaching it here so that you can check your preferences and have an idea at least how deep your pocket goes. I personally loved their Long Bean Red Curry with Tofu/ถั่วยาวผัดพริกแกง and also try one of their  Spicy Cabbage Fritters/ทอดมันกะหล่ำปลี and the Cinnamon+Ginger Iced Tea/ชาขิงซินนาม่อน such a nice, clean palette to your taste buds.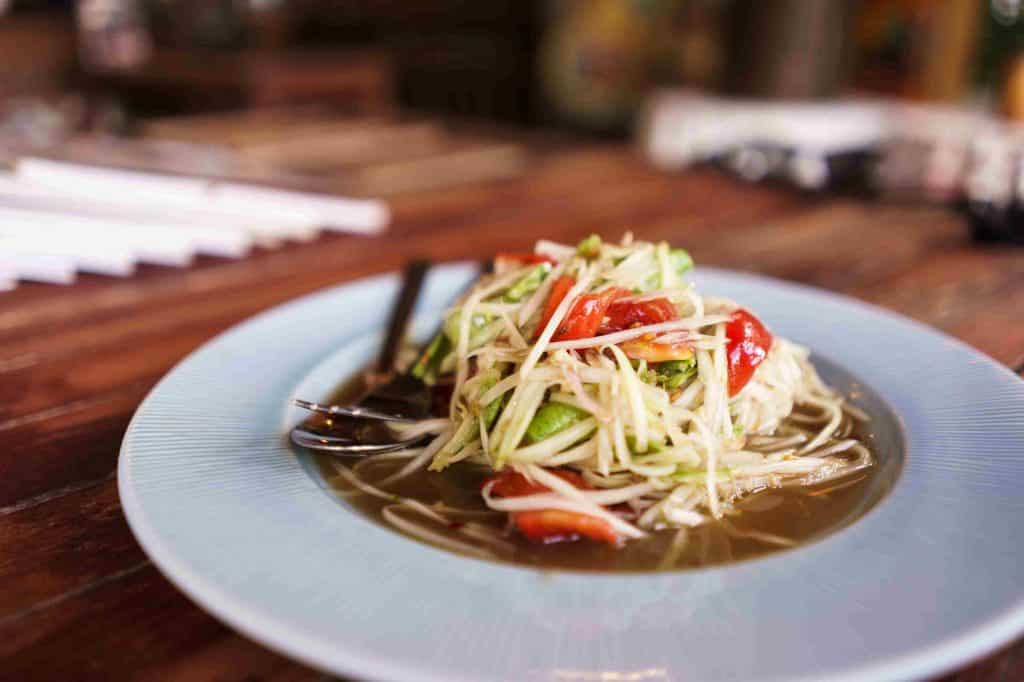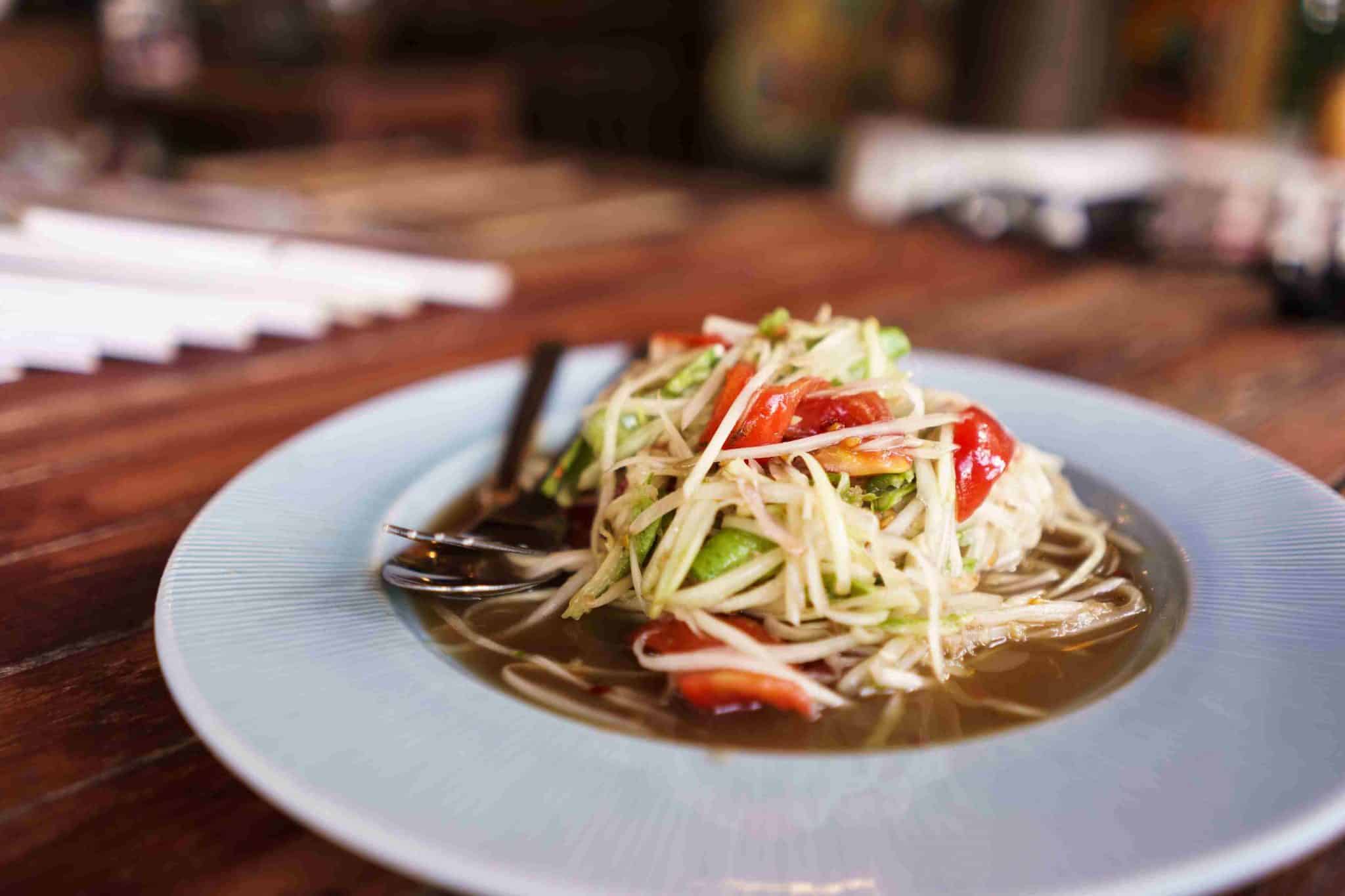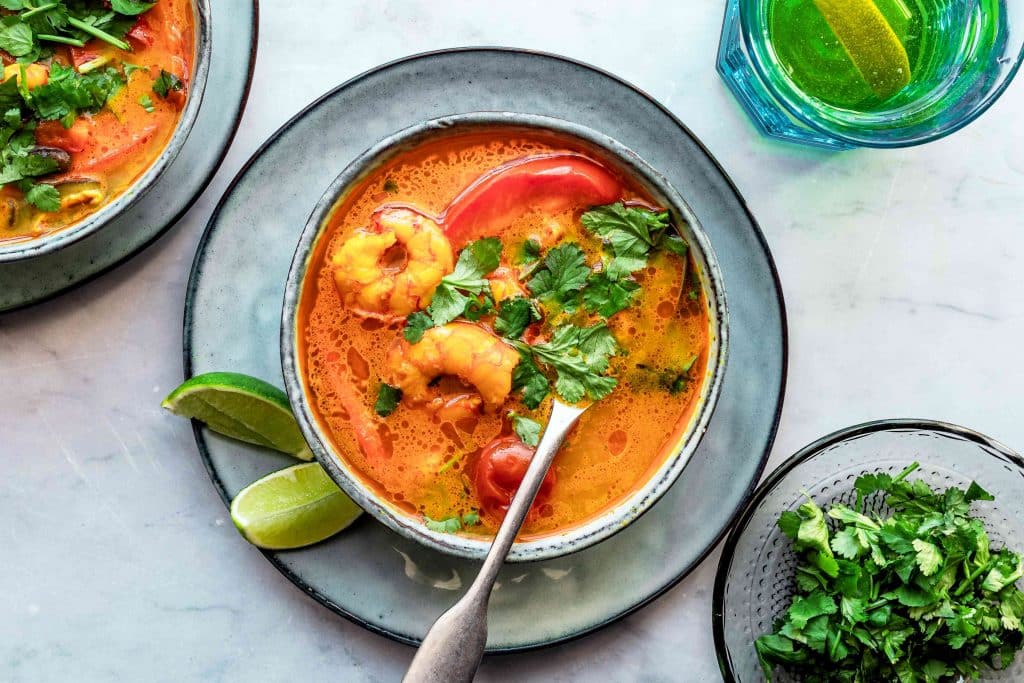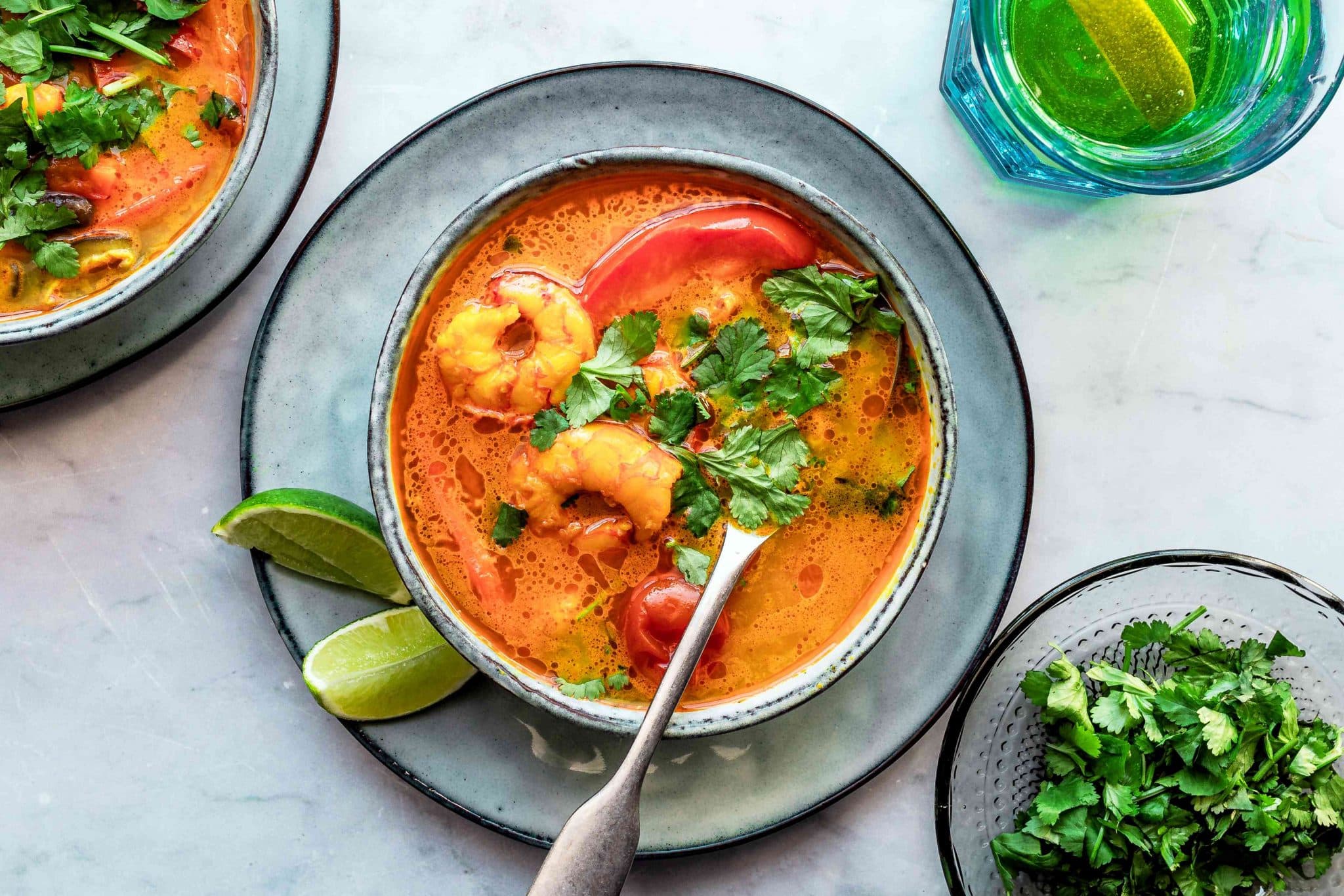 (Price range/Person: 4- 250 baht)
AAddress: 14 ถนนศิริมังมังคลาจารย์ Mueang Chiang Mai District, 502 Open: 9:00 am Closes: 9:00 pm Phone: 099 351 4404
14 Sirimankalajarn Soi 9, Chiang Mai 50200, Thailand in English, I asked for a google map for this in Thai so just in case that you are taking the taxi or tuk-tuk, you can show it to the driver. I understand the frustrations especially when you have no clue what to do and not knowing the language. I hope this one helps a bit.
Their beautiful new location is at a convenient area within the town with wide streets, parking, an enormous glass-enclosed cafe area with air-con and an outside seating section next to a fountain. Their plant-based menu includes many gluten-free and raw options, coffees and teas, fresh juices, smoothie bowls, flavorful salads, and Burmese curries and Western breakfast foods.
They have the simplest vegan pancakes and gluten-free brownies in town to top it all off! Inside they provide sustainably packaged food, drink, superfoods and more to-go in our zero waste store, My Best Life CNX and also an overflowing charity shop crammed with Pre-Loved clothing, books, home items. 100% of their profits attend support education for refugees from Burma at Thai Freedom House, their free learning center and restaurant is a hospitality training center for adult refugees.
I had their famous smoothie bowl and the cocoa mocha with coconut cream when I was still 8 months pregnant and my baby boy was thrilled for sure because he kept on kicking while am enjoying the heavenly, clean goodness of my meal. Worth every penny I assure you. In essence, while you're there, you might as well check out their refill station and pre-loved shop. The proceeds go to the cafe's cause in helping Burmese refugees and also good for sustaining the environment by being conscious about where we put our money into.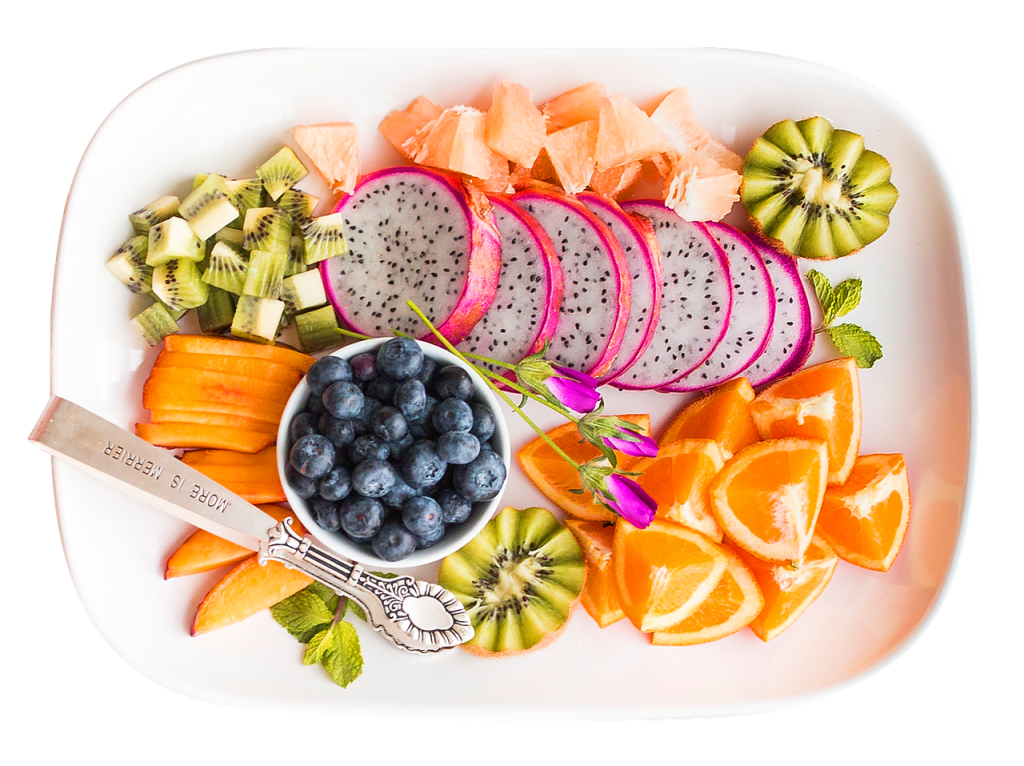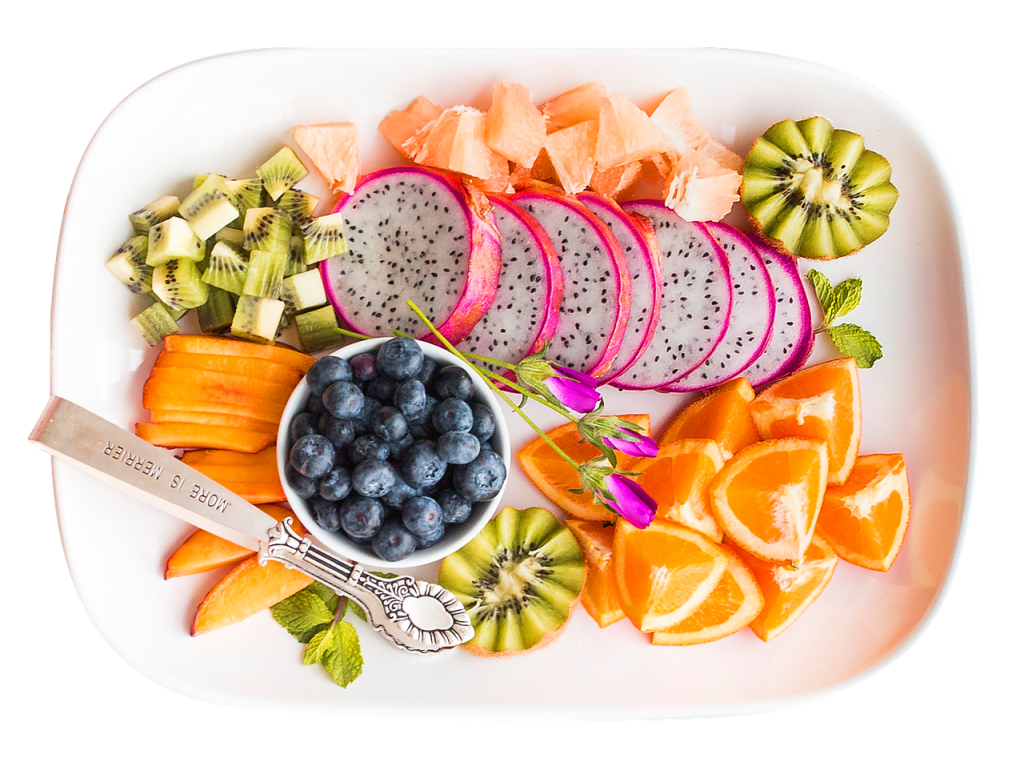 3. AMA Vegan Kitchen (Organic and Cooking School)
(Price range/Person: 30-120baht) Check out their menu
Address: 80 137, Chang Phueak, Amphoe Muang, Chiang Mai 50300 Hours: Open 10:00 am Closes 6:00 pm  Phone: 081 417 8882
The restaurant is tucked at the back of a hotel resort so it is a little challenging to find, but when you do you are in for a treat. With just a little bit of patience and you will get to where you want to be. You can find their menu here.
Meanwhile, if you are searching for some good getaway but not too far away from town, although this place is a little bit tricky to get into, for sure once you see this amazing vegetarian/vegan restaurant, I consider this as one of the best and tastiest plant-based meal I've ever had since Koh Phangan (which we used to live for months, last year).
The old Thai lady who passionately serves her well-loved and crafted dishes is very inspiring and for me who is not a vegan, did enjoy every bit of flavors that fell into my tastebuds.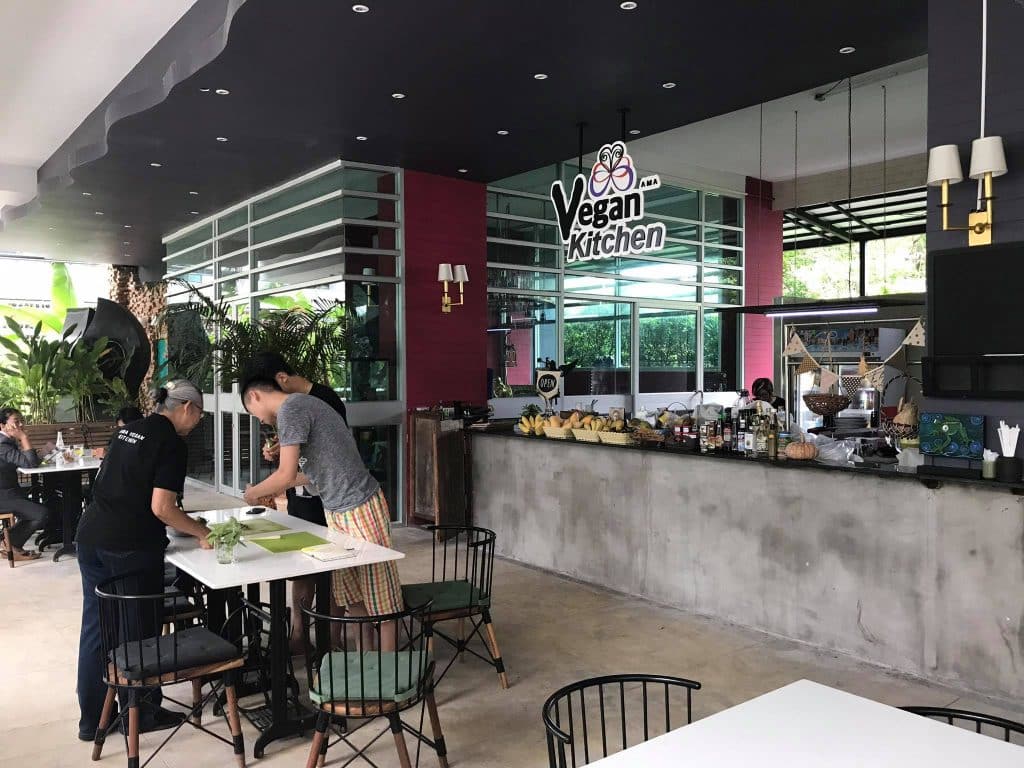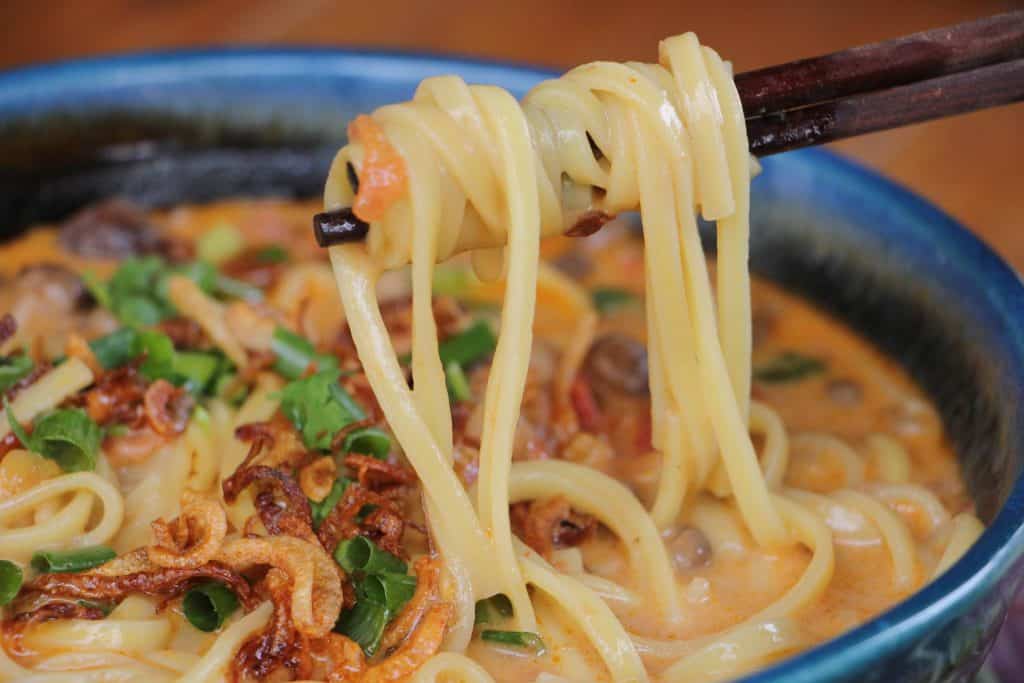 (Price range/Person: 150-300baht) Check out their menu
Address: 1 4 Sri Poom Rd, Tambon Si Phum, Mueang Chiang Mai District, Chiang Mai 50200 Open: Monday to Saturday - 11:00 am- 9:30 pm Closes early on Sundays from 11:00 till 4:00 pm Phone: 093 182 8188
Located at Green Tiger House hotel, Reform Kafe in the Green Tiger House behind Wat Kuan Kha Ma temple.
This plant-based restaurant offers its unique tastes and serene setting that could calm not only your nerves but your aching, hungry belly. If the price range would put you off, then this is not for you. As for me, I would only go for a nice treat especially when I know that my body needs a very good, clean eats such as thes
This lovely vegetarian restaurant offers a large menu, great food, stylish interior, outdoor dining, healthy options, hip atmosphere, and Farm-to-table servings. My favorite dish was the Khao Soi and Garden juice, it truly satisfied my noodle and curry cravings and it never failed to give me such contentment. A wonderful treat on a special day or any day perhaps! You can find their menu here.
(Price range/Person: 20 -150baht) Check out their menu
2/1 Soi 5 Samlan Road, Phra Sing | Near Thai News Company, Chiang Mai 50200, Thailand Opening and closing hours: Monday to Friday 11:30-9:00 pm Saturday and Sunday: 11:30 - 5:00 pm Phone: +66 90 321 2857
0.3 miles from Wat Chedi Luang Varavihara and Phra Sing near Thai News Company.
I have to be honest, despite the mixed reviews that I am getting to this little quaint and quiet area…I had to still put this vegetarian, organic, macrobiotic and probiotic restaurant a chance to stand on its own and still on my list of a plant-based eatery and also had some cozy rooms for staying in the city.
 To each of his preferences and tastes, some might dislike the textures and the newly acquired flavor from this restaurant. Owned and managed by a Japanese-Thai couple, they ventured their talents into exploring new heights in making macro, organic and probiotic meals. I loved their unique take on unordinary Tempeh shio-Kouji and refreshing Apple-walnut salad, finishing it off with Gotu kula leaf tea. One should be open-minded and try one of their signature dishes! Your body will thank you! You can definitely check out their menu here.
What can I say? I am very humbled and by sharing these top five Chiangmai restaurants vegetarian, I sincerely hope that it will somehow guide you and give you some insights on what you want and the options where to go. Let me know what your thoughts are and share your experiences as well! I'd love to hear from you!
Boun Apetito and enjoy your travels!